My brain is kind of pickled by pop culture and the internet, so in my failing state, I made this.  I apologize for acting like somebody's mom who just discovered memes: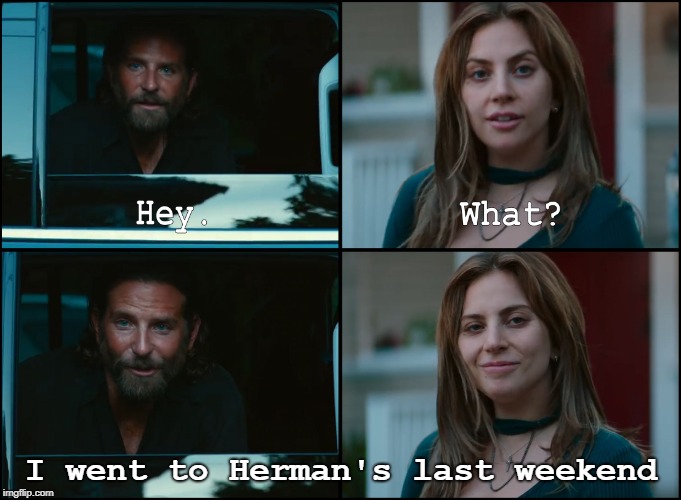 I had to do it; her look of knowing approval just kills me.
The big Typewriter Jamboree (AKA the 11th Annual Chestnut Ridge Typewriter Rendezvous hosted by Herman Price AKA Hermanpalooza) was last weekend. Before I set out for Herman's on Friday, I packed up a couple donations for Wordplay Cincy: a real nice Olympia SM3 and a Lettera 22 with script typeface that I bought in North Platte, Nebraska. The Lettera was very sticky and had the gummy escapement problem that causes the carriage to slide willy-nilly, so I did quick clean.
I hit the road on a beautiful fall day and headed west out of DC.
Into the mountains I went:
I reached Morgantown, WV and then made my way to Herman's where Friday arrivals were to congregate. I wasn't quite sure what to expect.
Good grief – the party was already rocking and rolling Friday afternoon.  Porta-Potties at the ready.
This is a beautiful Oliver 9 rehab in fire-engine red:
In the evening I headed out into Morgantown proper which is a nice little college town with a very happening nightlife:
I saw a manhole with my favorite exasperation exclamation.  It is frequently heard coming from me, bent over a typewriter:
Saturday dawned chilly and gray.  The rain started.
It got muddy. Like Woodstock, but with less LSD.
Fortunately we had a huge tent for presentations and vats of hot coffee (courtesy of Mrs. Price who deserves a medal for Extreme Hostessing Skills)
Herman formally welcomed us with jokes. He is very funny – his comedic timing is pro-level.
And then came the presentations: Typewriter First Aid using the gun technique which I ate up.  It was so good – I picked up a bunch of good ideas.
The Brumfield clan brought a slew of typewriters – many from the  Magdalinski Collection of South Bend , IN.  Brian B's presentation on the incredible work his family did in saving many of the typewriters in the collection was riveting.
I didn't know much about Royal electrics, but I came away with a new appreciation of them after Ian B's presentation.  Some of these pictured are extremely rare.
There was a typewriter beauty contest:
Number 88, the Pittsburgh won:
A lot of people came with business cards. I'll have to make up some for myself.
I talked typewriters with people all day Saturday until I was hoarse. I picked up so many excellent tips on typewriter repair and cleaning. It was a novel feeling, talking typewriters with people equally passionate about the crazy things. There were so many typospherian rock stars in the flesh at the gathering – I felt a bit shy. I was thisclose to asking for pictures with them, but I chickened out.
Saturday evening, mid-sentence in a discussion about Smith Corona 5 series, I felt the abrupt onset of overwhelming exhaustion.  A career introvert, the day had got the best of me and I cratered.  I slunk back to the silence of my hotel room to recover and work through the conversations of the day.
I had to leave early Sunday morning, so I missed the speed typing contest.  However, other attendees posted pictures of the Jamboree on the Facebook Antique Typewriter's Collectors group page.
Resolutions for next year at Herman's
Plan better so that I can stay for Sunday's events
Talk to all the people I didn't get a chance to pester this year
Get pictures with people
Bring business cards with contact information
Encourage Herman to open his swimming pool (just kidding!)
Early Sunday I returned to the DC area – a light early snow blanketed the mountains.
I came back with three delightful junkers that were essentially freebies: two Royal 10s and a LC Smith No. 8, all with "issues".
The L.C. Smith No. 8 is a pretty early one, serial number 278424-8.  It's a 1916 which would make it the earliest No. 8 at TWDB.
Side note:  Typewriter Database Version Epsilon is looking pretty snazzy! It's so nice to have the mobile and desktop versions united.
The L.C. Smith was rusted solid – boat anchor/doorstop condition.  I blew out the crud and doused it with PB Blaster penetrant and left it to reek quietly in the garage while I unpacked.
When I came back, I gently tried to move the carriage.  It moved with crusty squeaks.  With patience and petroleum-based penetrants, I gently freed the stiffened parts.   Using my hands and a soft touch, I delicately tried to move the rust-frozen parts that should move: typebars, ribbon vibrator, universal bar, sublevers, carriage return, back space.  I got the letter "T" moving.  The slug met the platen, there was a ba-dump as the escapement did its thing, and the typewriter moved a space.
Here's the "T" and space bar working it:
Now that I am sure that the LC Smith can type, I want to clean it thoroughly.  I wish I could do the kind of work that Words Are Winged does – he's amazing. I may do a careful Evapo-rust/cleaning dunk if I can get the keys and platen off.  The platen is soldered on (!) Someone lost the screw and decide to affix the sliding platen holder with a blob of solder. Oh well.  Onward.
*Postscript to Anne '88: drop me a line at the email address below so I can come pick up your typewriters.